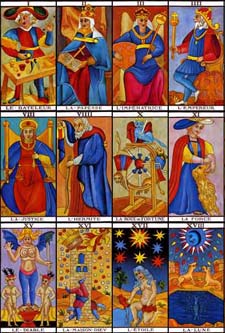 I hope you can a chance to read the other article that gave a general overview of tarot card meanings.  If you've never seen a tarot card deck, it can be a little overwhelming.  Because the tarot deck resembles a deck of playing cards on hyperdrive (with 22 extra cards!) it can be a lot to wrap your mind around.
The key thing – above ALL else – that I want you to remember, is that tarot card reading is only 25-30% knowing the actual meanings of the cards.  The rest is made up in the selection process itself (the "spread"), the position of the cards, the combination of the cards, and of course the overall intuition, and psychic energy that a psychic will pick up on when doing a reading.  That's why no two readings are the same.  You can have the exact same cards picked but a completely different reading depending on you and the psychic.  It's not necessarily as vague as that, but it's worth keeping in mind.
Finally, a tarot reading is always about telling you "need" to hear, not always what you might "want" to hear.  There are no hold barred with tarot readings.  It is as objective a process as you can expect it to be.  Just like numbers don't lie on a financial statement.  Meanings for tarot cards do not lie in what they divine to you – even if it's bad news.  Remember, this is all about giving you insight and information and guiding you on the right path.  But you do all the work, make all the decisions, and of course take all the steps along the path.
After scouring several trusted sources, I will do the best I can to provide a brief and simple overview of simple tarot card meanings.  Whether it's the fool card, the empress, or the king of wants reversed tarot card meaning you're after, I have a handy guide for you to reference.  I have also included a wallet size guide you can download and print!  All you have to do is sign up to our free newsletter to receive your free tarot card meanings sheet!  This guide gives you general card meanings.
Okay, so what is the meaning of each tarot card:
MAJOR ARCANA
0 – The Fool – eternity; endlessness
1 – The Magician – inspiration; psychic energy
2 – The High Priestess – enigma, secret forces
3 – The Empress – fertility, giving life
4 – The Emperor – assuredness, leadership
5 – The Hierophant – social mores, community
6 – The Lovers – intimacy, love
7 – The Chariot – war, perseverance
8 – Strength – bravery, courage
9 – The Hermit – deep insight, wisdom
10 – Wheel of Fortune – randomness, chance
11 – Justice – law, balance
12 – Hanged Man – retreat, pause, rest
13 Death – change, completion
14 Temperance – calm, adaptation
15 The Devil – greed, lust, evil
16 The Tower – destruction, clash
17 – The Star – optimism, pleasure
18 – The Moon – sexuality (f), hidden danger
19 – The Sun – sexuality (m), marriage
20 – Judgment – awakening, results
21 – The World – triumph, success
MINOR ARCANA

WANDS
ACE – start of luck, inspiration
2 – business success, partnership
3 – volunteer, charity
4 – concession, recovery
5 – great effort, challenge
6 – shocking news, science
7 – courage, pointlessness
8 – speed, positive news
9 – resourcefulness, scarcity
10 – excess, overkill
PAGE– messenger
KNIGHT – the start or conclusion
QUEEN –  maternal, artistry
KING – paternal, entrepreneur
CUPS
ACE – love interest, infatuation
2 – Soul Mate, Good Friend
3 – plenty, wellbeing,
4 – restlessness, unhappiness
5 – lament, disenchantment
6 – happiness (past)
7 – fantasy, illusion
8 – squander, obsession
9 – prosperity, wealth
10 – family, extravagance
PAGE –  good news coming
KNIGHT – offers, requests
QUEEN– romance (f), vanity
KING – romance (m), sensitivity
SWORDS
ACE – win, fairness
2 – hesitancy, tension
3 – parting, love triangle
4 – alteration, progress
5 – unhappy triumph
6 – mild health concerns
7 – fall short, under-achieve
8 – limitation, inflexibility
9 – mental anguish, sadness
10 – misery, treachery
PAGE – bad news coming
KNIGHT –  problem resolved
QUEEN – strong will (f)
KING – authority (m), military
COINS
ACE – path to wealth
2 –  double venture, financial
3 – artistry, employment
4 – gifts, material goods
5 –  isolation, desertion
6 – extreme anxiety
7 – brief rest or break
8 – job, work-related
9 – wealthy and happy
10 – promotion, family finance
PAGE – good money news
KNIGHT – patience in business
QUEEN – wealth (f), independence
KING– wealth (m), business
There you have it – in a nutshell.  Again, I caution you that this is but one aspect of a tarot card reading process.  I just want to make sure get an idea of the very general meanings of these cards – at least the widely accepted meanings.  I know I will get tons of emails claiming different meanings for some of the cards.  And yes, that's true too – make allowances for some variations.