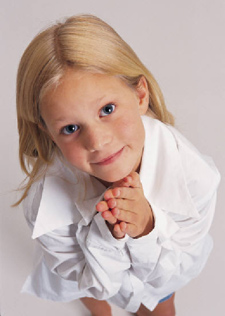 Do you Have Psychic Kids?  Learn to Recognize the Signs!
Last night I was watching the show Psychic Kids Arts and Entertainment Channel has recently put back on it's roster. For those of you who have not seen the show, it is a reality program that focuses on children who are believed to have psychic abilities.
Many children are living with their abilities every day, but without proper guidance and acknowledgement of their powers, the children are confused and even scared about what is going on inside their minds. The television reality show Psychic Kids Children of the Paranormal is shedding some light on the possibility of having psychic children in many 'normal' families around the world.
There are reported to be a significant number of children in the world with psychic abilities, but they are not always recognized. Without understanding and helping the child to nurture the powers of their gift, the children begin to feel like outsiders and do everything they can to shut off this ability. If you think you know of or have a psychic boy or girl, read on for some tips on recognizing their abilities.
Empathy (Clairsentients): Many psychic kids will show the ability of Clairsentients, which come from the meaning of Empathy. This means that the child is able to comprehend another person, spirit or animal's pain, joy, or any other emotion. The understanding does not have to be solely emotional. He can feel other's physical pain as well. If your child's dog breaks his leg, your child may be able to feel that pain as well. If the child does not get proper guidance in using this gift, he may get confused – especially if living in a home with parents or siblings who are arguing, with a general aura of disagreement and aggression. If the child does not understand that he is not only feeling his own pain but others pain as well – it may lead to drug abuse, depression, and other negative actions as he develops into a teenager.
Signs to Look for:

understands how other people are feeling without any words or body language
can 'feel the pain' of other people, animals and sometimes plants
 knows specific details regarding a being's pain without being told
cries when others cry

What to do:

develop the ability by having both you and child close your eyes, and ask him or her to describe how you are feeling. Try to read the emotions of the child as well.
when people hold this ability, they need to learn how to block out these feelings too. It isn't healthy to constantly be feeling the pain of others. Teach the child to close their eyes and imagine themselves inside a golden bubble – shutting out the emotions that are trying to break through.
Telepathy:  Telepathy is the ability to communicate with people and animals through thought only. If you find that your child is answering questions before you ask them, or coming just before you call him, you may have a telepathic child on your hands. While there isn't any danger in this ability, if a child does not understand what is going on, they will become confused as random thoughts pop into their head. At the same time, if they learn to harness their ability – you need to teach them about privacy. Entering someone's mind at any time is a breach of that person's privacy.
Signs to Look for:

constantly finishing people's sentences
talking about or drawing something/a subject just before someone else does
coming to you just as you are about to call out to them
dreaming the same dreams as someone else

What to do:

practice the ability by calling out to your child with your mind only
draw a picture or think of an image, and see if your child can describe what they see, or even feel by closing their eyes and concentrating on your thoughts
Clairvoyance:  Those who experience clairvoyance hold the ability to see glimpses into the future. Perhaps your child is having dreams that come true in the next week. Or he draws a picture one day of something that happens a few days later. Not all clairvoyant messages are positive, and not all dreams are necessarily clairvoyance. A child can easily get confused, and any scary dream will have him more than petrified with fear. It is important he has an understanding of his power.
Signs to Look for:

the child dreams/says/draws/thinks events or occurrences that 'come true' in the near future

What to do:

have the child keep a dream journal. This will help analyze what is true, what is merely a dream, and it will help to understand his ability even further
let the child know that they should tell you if they have any negative feelings or negative thoughts about the future. This can be very scary for a child who has experienced their own clairvoyance in the past. Build trust with them, and you can both help each other.
Mediums (Seeing Angels, Fairies, Spirits): This is a gift that should not be taken lightly. As a young child they may begin to sense or possibly see spirits, fairies, or other worldly beings. As a parent or loved one, don't simply brush this off as an over-active imagination. If the child can harness this power, he or she may be gifted with the ability to communicate with deceased loved ones. If they harness this power more, they may eventually be able to help other people communicate with lost relatives or friends. They will lose fear in death as well, as they are shown that people do live forever. Understand that this is a serious gift, not to be taken lightly.
Signs to Look for:

tells you that they see spirits, fairies, or people at the foot of the bed, or other places
talks like, or tells you stories/memories from deceased loved ones that the child has no way of knowing about
gives you messages from deceased loved ones

What to do:

believe the child when he or she tells you of their visions
ensure the child does not fear what they see. Let them know that any spirit will leave them alone if they tell them sternly 'get out of here. leave me alone.'
ask the child if family members have any messages they would like to deliver. This will not only hone their skills, but offer information to you and your family, and also give the child a sense that their ability is not weird – that it is indeed helping others.
While children with psychic abilities is apparently quite common, it is not necessarily readily accepted by their peers, or even adults. Let the child know that you do believe them, that you are there for them. Find them a proper psychic mentor, and allow them to build confidence in their abilities, and most of all – understand what is happening inside their minds.