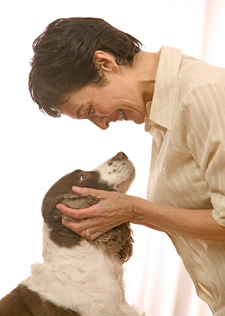 A friend of mine purchased a new puppy about 6 months ago, and began the long process of training and house-breaking him. He had followed tips from books, professional trainers, and other dog owners, but his dog was still having some serious behavioural problems. I suggested he take him to an animal psychic.
Animal Psychics, or communicators, are able to communicate with your pets telepathically, in the same manner most psychics use to communicate with humans. You may be wishing you could talk to your pets to understand their obedience problems, why they always seem sad or aggressive, or even to learn more about health problems your animal may be experiencing that are not responding well to veterinary treatment. Or, you may be wishing to speak to a deceased or missing pet.
There are two types of animal communicators:
Pet Psychics for Living Animals
When an animal is misbehaving, he is not usually doing that just to spite you – there is generally a reason behind such behaviour. While you may think that you understand your animal very well, there is a possibility that he doesn't understand you. Or, he may be feeling unwell, or be depressed about experiences in his life before he came into your care. Pet psychic Sonya Fitzpatrick talks about a dog whose deliberate accidents were directly linked to the dogs dislike for its owner's new boyfriend. Without an animal communicator, the owner never would have known the cause, and the battle between pet and owner could have gone on forever.
If you're not fully convinced of the power of these communicators, you may want to listen to some remarkable, heart-warming stories from David Louis pet psychic as he tells about his communications with all types of animals. From porcupines, to horses, and of course dogs and cats – David Louis is able to communicate with just about any type of animal. He talks about a dog who only needed to know his owner loved him in order to pass his doggy boot camp field trials, and the story of how a miniature horse in captivity shared with David, his dreams of living in a wide open field with other horses.h
Mediums for Deceased and Missing Animals
Animal communicators are not only for the living. There are Animal Mediums out there as well who are able to cross over to the other side to speak with your deceased pet. Did your animal die without a chance for you to say good bye? Do you have some unanswered questions you wish you could have known about your animal's life and feelings while it was living? Do you want to know why he was always so afraid of people? Or answer any other strange behavioural issues your animal had? These communicators can help.
David Louis tells a remarkable story of how a deceased cat gave a message to her previous owner not to feel guilty about her death. This particular cat had awoken her owner by scratching at his bedroom door because there was a massive fire burning through the house. Her owner – a young teenager – had left his cigarettes burning when he went to bed which caused the fire. He escaped through an upstairs window, but the cat was left to perish inside. The young boy had been carrying this guilt around for years, and this cat had contacted David Louis so that David could let the young boy know that she was at peace with her death – that she considers it an excellent life-lesson for the young boy, and he should not feel any more guilt.
Not all communicators deal with the deceased, but the ones that do will often be able to help you find a missing pet as well. While psychics work off energies and auras, these mediums are able to reach further, and therefore aid you in finding your lost animals.
Animal Communicator or Pet Psychic Is The Answer
If you are experiencing behavioural problems, communication problems, have a lost or deceased pet that you need to reach, you should think about reaching out to an animal communicator. Finding a live person in your area with such skills may be a difficult task, but fortunately there are many pet psychics operating via phone or web consultations. Some radio shows and websites offer free pet psychic advice, but the time slots can be limited, and it may be a good idea to book a full time slot with a professional communicator if you really want to receive detailed feedback about your beloved pet.
While there has been no recorded evidence of any real-life "Dr. Doolittle's" to this day, these psychics and mediums are probably as close as you are going to get, and they can be very helpful in resolving issues with your pets and animals, and making your lives together even more enjoyable.