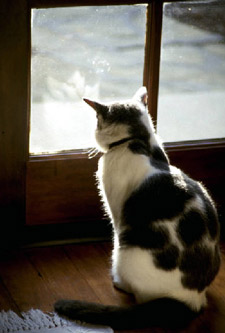 Celebrity pet owners can take a breather now.  The world of pet psychic has now gone mainstream.  Pet owners and pet business managers have a new tool in their arsenal for finding and correcting animal behaviour to finding their lost animal friend.  Pet psychics are big business now, but even more important, they are a legitimate method of solving a pet problem.
Pet or Animal psychics use the same power of observation, intuition, and insight (once relegated only to humans) toward pets and animal friends.  Indeed, according the psychics, humans are simply a complex part of the animal kingdom.  Consider the case of elephants.  Once thought of as roaming giants in the African savannah the way cows purposelessly roam and graze a field, our perceptions have now rapidly changed.  Animal scientists and field researchers have discovered that elephant possess highly complex emotions, functions, and social communication.  Elephants are now understand as creatures that can think, feel, recognize themselves consciously, and act cognitively the way a human does.  What's more is that elephants seem to be self-aware with respect to their own mortality and even grieve the loss of their close ones for years after a death.  Observations of other animal species are pointing to similar conclusions.  The animal world of today is strikingly different from the world of only a few years ago.
So, it's no surprise that a talented psychic can read animals just the same (or at least similar to) fellow humans.  And why would someone need an animal psychic?  Here's just a few services many renowned pet psychics offer:
Learn why your pet may be depressed or despondent
Uncover hidden health issues or problems affecting your pet
Diagnose and solve specific behaviour issues with your pet
Communicate with your deceased pet
Communicate with (and find!)  your lost pet
Prepare your show dog, show cat, race horse, or other performing animal
Learn about your pet's current state of mind
Learn who your pet feels about you, other pets, and companions
Learn about your pet's past (ie. if adopted from a shelter)
Find out if your pet is happy
The list can go on and on.  I've found that many pet owners will often try animal psychics after exhausting all their other options including vets, behavioural specialists, animal "experts", other animal owners, etc.  But increasingly – largely due to the success of this psychic interchange – pet owners seem to be using animal psychics as a primary response to a specific issue over all other methods.  And I find that a strong vote of confidence to the accuracy and legitimacy of quality pet psychics.
The latest trend that I'm observing is tarot reading for dogs or cats or other animals.  Still in its infancy, I've seen a pet psychic provide a thorough reading to a dog that seemed to help animal and owner alike.  Logistically, it's a little tricky to do.  But it's sort of a co-reading, in the sense that the owner "assists" in his/her pet in the interactive aspects of the tarot reading.
Making the leap from human psychic to animal psychic isn't as difficult as you'd expect. Your pet has thoughts, feelings, needs, desires, etc. just as any human does.  It's perfectly reasonable to accept that a psychic may tap into those feelings and communication them to you.  It may sound farfetched, but those who've currently used the services of a animal psychic can scarcely disagree with the outcome.
If it helps solve your animal friend's problem, or provides deeper comfort to you or your animal (living or not), than I can only see an upside using a pet psychic.  And for the psychic, it allows them to provide comfort and extend their reach and push their limits and abilities into a broader world than just one species of life on this planet.  A few popular pay choices are pet psychic sonya or david louis pet psychic.  There may be some free pet psychic options available too – but I have not found any.
As bizarre as it may seem, animal psychics are experiencing a significant success rate in resolving animal issues.  It could very well mean that the era of pet psychology, is rapidly being displaced by pet psychics.  And perhaps that's not at all a bad thing.