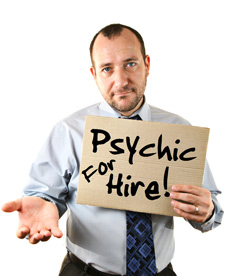 You don't grow up thinking "I've wanted to be a psychic all my life!"
At least that's not consistent with most psychics. Psychic ability is like a sixth sense that – like other senses – need to be developed, understood, experienced, and used thoroughly. People with true psychic abilities fall into gainful employment sometime in psychic counselor jobs, telephone psychic jobs or work at home psychic jobs, but it's not often their original intent or purpose. What I mean is that a truly gifted psychic will first experience a need to utilize their ability as a reaction to stimuli. For example, they may intuitively sense that a close family member or friend is in distress. Or they they may immediately read the aura of a stranger they just met and react accordingly. Many times it is just an impulse or instinctive reaction.
As a psychic develops and begins to understand their unique ability, they start to feel a compulsion to help people. They have a special gift and talent so why would they be an accountant, lawyer, or office worker etc. Psychics who wise to use their gifts and take great joy out of helping others have more employment options now than ever in the history of the profession.
As a psychic your main two options are to join network where you will receive and grow your clientele but split your earnings with the network, or go it alone and begin an entrepreneurial venture as a self-employed psychic.
Unfortunately, as will any profession, there are some psychics who are excellent at business and marketing, and others who are horrible at it. Sadly, in either case, the quality of their psychic ability is completely unrelated to their business acumen. So you may have an excellent psychic who you may never end up finding because they are swept off the board by the branded, self-promoting psychics. This is just the nature of any industry – and psychics are no different.
If you've identified yourself as someone who possess psychic abilities, the best advice I can give you is treat your service as a business. Because, we all have to make a living. Offer the best customer service to your clients and do each reading in earnest. But also, know that you must promote your business and skill and find a way to differentiate yourself from the plethora of psychics that occupy the market share. Regardless of your decision to join a network or not, you must treat your life's work as seriously as any other mainstream business.
That being said, there are plenty of methods and resources available to promote your business or gain psychic employment online. Start with researching the big psychic networks. Use Google, Wikipedia, psychic forums, and be a fox when it comes to observations. Visit other successful psychics' sites and evaluate from the perspective of a business. What are they doing well? How do they offer their services? How can you emulate their success?
Finally, recognizing the skills you have is just as important as acknowledging the ones you don't. If you don't know how to market yourself online, find someone who can! Trying to do it all perfectly, means you'll do no single thing right. Focus on your craft and pay others to aid you by focusing on theirs.
Jobs for psychic readers are plentiful.  I've even seen sms psychic tarot jobs which basically allows you to provide readings via texting.  The sky is the limit.  Who knows, with all the opportunities available it can easily become a career and maybe even your own thriving empire one day!