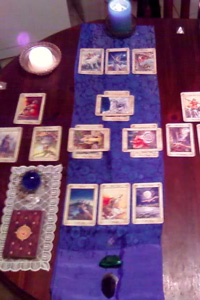 One of the most important factors to recognize regarding Tarot cards is the "spread".   Most people think that tarot cards simply involves a tarot diviner shuffling cards and explaining the meaning of the cards you picked.  That's often how tarot is portrayed on television and in popular culture.  But the real heart of the tarot reading process is in the "spread".
Learning Tarot Spreads
Is learning tarot spreads easy?  That depends.  First you need to understand the concept.  Basically, a tarot spread is a particular layout of the selected tarot cards to divine meaning.  Simply choosing the cards is only a part of the process.  How the cards are laid out (spread), in what order and position they are, whether they are right side up or reversed, and the cards that precede and follow any of the cards are all important factors that can dramatically affect your reading.
How Many Sample Tarot Spreads?
This is the frustrating and the overwhelming part.  There are literally well over 100 different popular tarot card spread illustrations and configurations.  Indeed, some are more popular than others, but there are a lot of different ways to organize tarot cards to divine meaning.  Sometimes a psychic prefers one or more "favourite" spreads that may get used over and over again.  Other times a psychic will use a particular spread for a particular situation.  You can even make your own tarot card spread cloth to help you lay out the cards!  But let's say it's a love problem, there's specific spreads designed to divine meaning particularly in the receiver's love life.   If you don't have a lot of time, a popular quick reading might be done with a simple Three Card Spread which along with present and future is also a tarot card past life reading spread.  There are lots of possibilities.  Some advanced tarot card spreads are incredibly detailed and complex.
How To Do Future Telling Tarot Spreads?
If you're looking to get started with tarot cards, I suggest trying up to 3 spreads and feeling them out.  One will likely jump out as a preferred spread.  You may get a good vibe about it or find that it feels easy or right.  Focus on that spread and continue to perfect your ability with that spread.  It's far easier to get very good at one method than adequate on 100 methods.  So definitely try to stay focused (at least initially).
How Many Tarot Card Spreads Are There?
I mentioned that there are hundreds of spreads including a lot of personal or custom spreads as well.  Some of the ones you'll see in a lot of Tarot resources are:
Celtic Cross Spread
Three Card Spread
One Card Spread
Two Card Spread
Golden Dawn Spread
Five Card Spread
Four Card Spread
Horseshoe Spread
Star Spread
Six Card Spread
Tetractys Spread
Ten Card Spread
Seven Card Spread
The Mirror Spread
Astrological Spread
Ten Card Spread
And many, many more of course…
By far the most popular are the Celtic Cross Tarot Spread, Three Card Spread, and the Five Card Spread.  But depending on what questions you wish answered and which psychic you visit, different spreads may be used.
As always, make you keep practising to perfect your abilities.  Spreads are often misunderstood or poorly implemented.  Yet they may very well be the most important aspect of a tarot card reading.  Pick a spread, learn it, learn it well, be an expert on it, then repeat with another spread!
There are tons of resources on specific tarot card spreads out there.
Free Tarot Spreads?
As a gift to visitors of this site, I've created a Download folder with some sourced information and diagrams on the positioning of some key spreads.  That's a good first step to getting a feel for tarot card spreads.
I will make these availabe to download right here!  Get your free tarot spreads here.