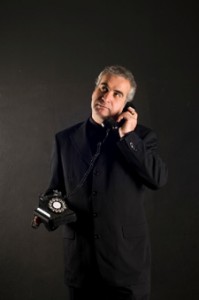 Gone are the days where you would walk up to the grimy little shop in the local plaza and get your psychic reading in a hot, poorly ventilated room with beads in the in the doorway.   While I'm sure these places still do exist and thrive in some areas, in today's world, it's extremely easy to get a psychic reading by phone or through the internet.
Telephone psychic readings are probably still the most rapidly growing medium for getting readings.  But what does a psychic phone reading entail?  How can a phone psychic get a good read over the phone?  And what happens when you call  900 phone line services for psychics?
These are all excellent questions.  Let me see if I can explain.
Phone psychics are either independent operators who essentially run their service entirely by themselves (meaning they process the charges, run their own phone line, and market themselves on their own) OR they are part of a "network".  The best way to think of a network is to think about real estate agent.  Many realtors are part of large agencies that take a cut from their commission in exchange for an office, answering service, website, branded marketing supplies and resources, and pooled directory access, legal counsel access, etc.  They still operate independently, but get industry recognition, referrals and business support through the agency.
Psychic networks work much the same way and are by far the dominant force in telephone psychic readings.  Many networks will collect 40% or more of the gross revenue generated by the psychic.
I'm telling you all this so you know exactly what may motivate psychics behind the scenes.
When you call a telephone psychic, you may be charged a flat connection fee plus a per minute charge during your phone time with your psychic.  The charges appear on your next phone bill.  As far as I'm aware, there is no free psychic reading by phone as of yet.  Whether the psychic is independent or from a network, he or she will give you a good and accurate reading over the phone.  Accurate psychic readings are what you should expect for your money.  And telephone psychics DO deliver.
Because the transfer of energy or psychic energy transcends a lot of what we know of as physical/tangible things, the psychic doesn't need to see you or touch you to get a reading.  The moment a connection is reached over the phone, the psychic will immediately feel your presence and energy and begin to read you.  They may ask for your name, your birthday (zodiac sign) as well as the nature of your call to filter out and convert the energy into a meaningful reading.
Even sceptics will be unnerved by the whole process.  Regardless of where you stand on the psychic believability scale, don't dismiss phone psychics just yet.  The best bet is to give it a try for yourself and see if it works for you.  There are literally thousands of telephone psychics to choose from!  Most are pay but some offer a free psychic phone call as an intro.